This week I am working on accomplishing two of my 2011 goals: learning how to coupon better and cooking more at home. Between Kyra and I being sick, a trip to Asheville with my best friends, and the sudden death of my cousin, I have not had a minute to cook. Seriously, how do wives/moms find the time?!? If ya'll remember from my last post, I. HATE. TO. COOK. I am awful at it. Plus, I hate to wait on food. When I'm hungry, hello!, I'm hungry. At least I love couponing and challenge myself each week to save more money than the last. However, I have a long way to go in understanding all the tricks of the trade, as well as keeping it all organized.
Anywho, I decided that if I'm going to accomplish both of these things, the best thing to do would be to plan my meals in advance. Yes, I know. Most people probably already do this. To me, this sounds absolutely B-O-R-I-N-G. I mean, what if I change my mind? I took a look at various grocery store deals and found some buy one, get one free meat deals at Lowes. I figured that way I could buy meat for the next two weeks and that will bring my spending down next week. I clipped and organized P&G coupons, as well as some others I had printed out from online and gotten from Food Lion. Food Lion is the closest store to us and they always print off coupons for me to use on things I typically buy (like baby food). After figuring out what was on sale, I then went to find some recipes. Sadly, I have only a couple of cookbooks. Dave and I went through one and I started getting excited about all the things we could make this week. Our menu: meatball sub casserole, chicken parmesan, and hamburgers (because we have some we need to eat up and that cuts down our bill as well: win-win). I made a list of everything we needed for those three meals and Dave and I agreed the other nights could be random meals (my cereal, tuna, grilled cheese, etc....his deer steak, veggie stir-fry, or sausage-I told you we are random!).
I was so happy when I went to buy groceries at Lowes and found out they will honor competitor coupons! So they accepted my Food Lion ones as well. Not the best couponing deal, but after it was all said and done, I spent $42 and saved $31. This included food for the three meals (and meats for next week), two boxes of cereal for breakfast, two packs of baby yogurt, a couple of other cooking necessities, and I got all the rest of my baby food for free!
Side note: Also this week, I went to CVS and used my $17 in Extra Care Bucks, and after other coupons, I only spent $17 on the rest of my items and used a Visa Gift Card to pay for it. So technically, it was all free! Boy, I love saving money when I shop!
So to wrap this all up, I finally had the chance to cook tonight. Here's the meatball sub casserole.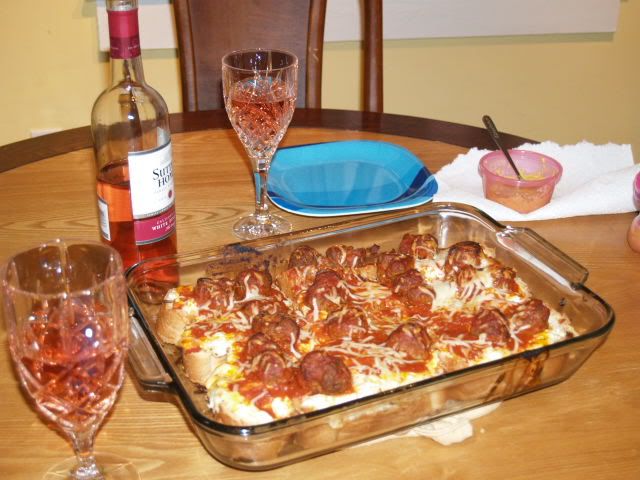 Dave liked it and I thought it was ok. And I will save you the horrific cooking escapade that went down. In true form, I manage to mess up every single meal I cook. Let's just say it involved a loud crash, a white down coat, and large amounts of spaghetti sauce everywhere. Trust me: You don't want to know the details. But it did finally turn out, even though it wasn't too pretty. Here's hoping 2011 cooking gets better, if not bearable for all involved. Happy eating and saving! :)